Processing the Product
Carefully trained, experienced workers follow strict procedures in extracting and processing uni for the market. Breaking into the sea urchin's hard shell with a special tool, workers gently remove the delicate "roe" which is then cleaned in a series of salt water baths. The salinity of the cleaning water is scientifically specified. Only the most skillful workers are chosen for the delicate task of preparing the uni trays. It takes superior eye-hand coordination to arrange the uni.
---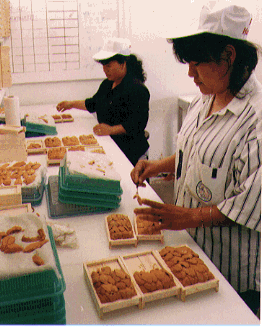 Some Ocean Fresh Seafood Products workers have been on the payroll since the company began. All are trained to the standards of care and cleanliness that have made Ocean Fresh Seafood brands so highly rated in the marketplace.
---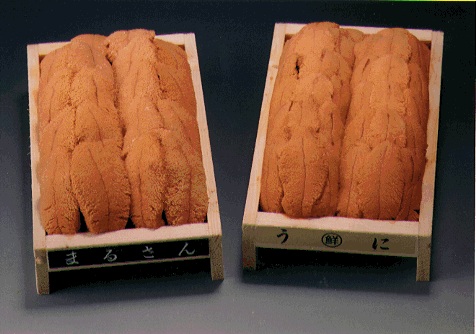 The finished product, in the style, and with the uniform size and color highly respected by buyers in Japan. Each tray is inspected and graded into multiple categories to meet different market preferences...and to meet Ocean Fresh Seafood Products high standards.